Well we attempted some maternity pictures of Baby #2...I am being very brave in showing this picture, but i wanted something a bit more intimate and so i decided to show off my belly this time. I told jeremy what i wanted, put on the right settings and we both tried very hard to get elias to sit for more than 5 shots. I had all these ideas of shots i wanted to try with elias and my pregnant belly, but it never works out the way you hope...  Anyways i did really like this one... even though i wish i would have put my hair half up so you could see my face a bit more.. but still it shows the more intimate look i was going for with my son.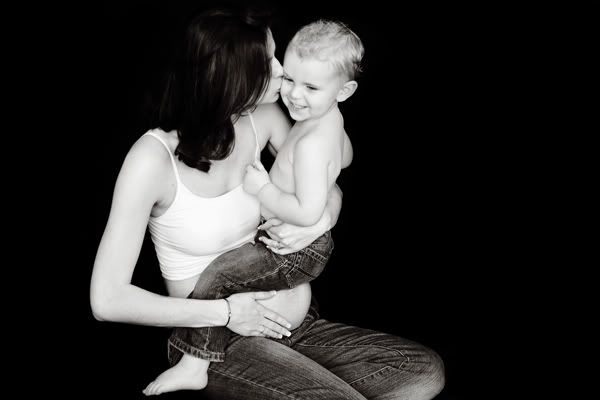 Its really sooo soon, this baby is due in a month now, even though my baby ticker on the side says 37 days its really 27, i put in the wrong date and now i dont know how to change it..
Oh well its really coming and i have yet to do any sort of nesting for the baby.. i still have everything packed away and havent bought much of anything yet either.. soon though probably by next week i will start getting ready so hopefully the babe wont come extra early..
I am really looking forward to having a newborn, even though i'm kinda freaked right out.. and had a bit of a nervous breakdown thinking about the delivery the other day.. but i am ready to add to our family. Elias doesnt really understand, but at the same time he does. 
The other day i said "where's the baby"? and he pulled up my shirt and then said "No baby" and pulled it back down.. it was pretty funny. But mostly he says the baby is going to be "a sister" and we will call it "girly". Just today i was asking him what boy names he liked and as i was listing the few we like he said, "No, girly".. So as much as i want a girl too, i think we'll both be okay with another boy. 
I was also thinking where are we going to put all the baby stuff now, we barely have any room and feel claustraphobic** enough with only 2 bedrooms and no yard. But we will make due, i guess. People do it all the time, but yet i am NOT looking forward to it, and I am afraid i might go a little crazy and will have to leave the house everyday to get Elias out so he can run around. 
But its all good and i am excited about this little new addition that will add to our family, i'm especially exciting about just knowing what sex the baby is!