**This was from last week**
So we've been moved in now for a few weeks and its starting to feel right at home here in Barnwell.
Actually its been so great. I
love
having my family soo close and good friends as well. It's also been awesome having Jeremy around, i get to sleep in here and there and he helps out with the kids alot.. it's going to be hard getting used to not having him around as much once he starts work.
Elias is loving having so much more space, a big yard and he gets to ride his bike all the time down the drive way. Nixon has been teething this month and lets just say its been bad. The 1st week we moved in he was soo sick, the highest fevers ever, diaherra, throwing up-the works. He loved this bean bag chair -all. snuggled up with his soother and blanky.. He's also so needy.. and he
scowls at everyone
, that is his new thing. He used to not be able to contain himself from smiling at everyone, but now he just scowls and when he wants something he kinda grunts/yells
soooo loud
. everyone laughs, but its getting so annoying. I think with teething, all the new faces and new changes lately he having a hard time.. so hopefully we get our Nixon back sometime soon.
Since we've been here we've gone bowling with my family for my mom's birthday and also just got back from visiting the Cabin last weekend, always so nice to go there.
t
his is soo the scowl he gives all the time now.
sooo sick..poor little dude.
my mom might kill me for posting this one while she's talking, but its the only shot i got with the grandkids and its cute.
Happy Birthday, love you!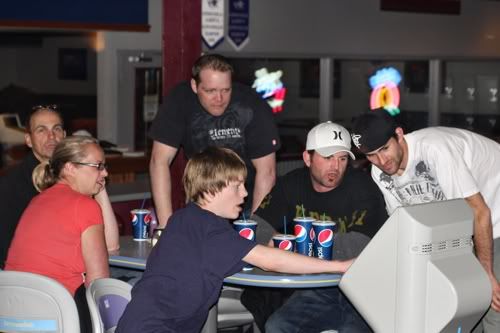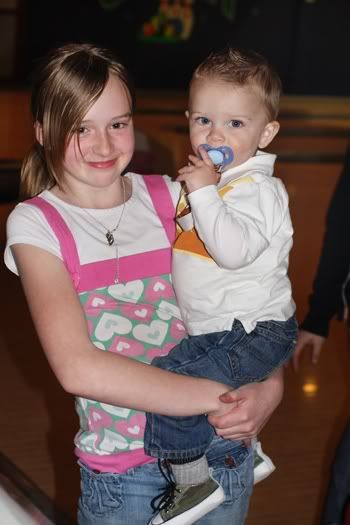 Saige and Nixon, and Yikes no more soother after tonight!
Also we just got home from an AWESOME week in Arizona with our friends the Jubbers, the Jahns and the Bakers. Our husbands all graduate this June for Dental school and so this was our big hooray for Finally being done!
It was so much fun, Lots of pics to come!