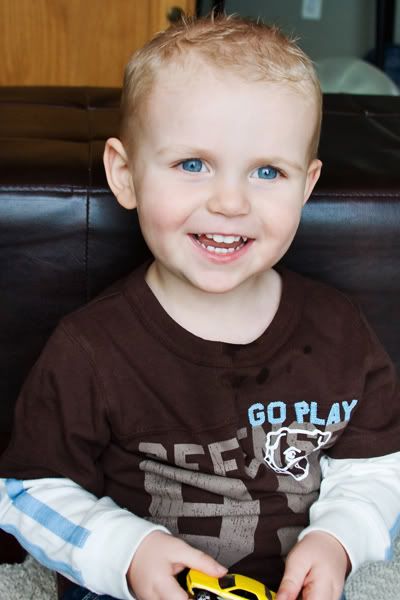 Elias on his birthday, wearing his new shirt from Grandma Cooper.
It just seems so crazy to think Elias is 2 yrs old already. 
We celebrated his birthday with just a little party. Nothing spectacular, but special. 
I am really big on birthdays. I think its the one day that you really get to celebrate a special person. 
And so i really try no matter how little they are to make them feel like its their day on their birthday. We just had a few of his friends over for dessert, and i made a sweet race car track cake. He was pretty excited about it, mostly just to play with the cars from off the cake.  We also bought him a race track which he loved and was a big hit with all the boys too. He also got some cars, clothes, a Mr. Potato head and puzzle too from his friends. 
I love birthdays and was so glad to see Elias so happy on his big day! 
Check out the sweet Race Car Track cake i made, i am not the best at icing it. 
Everyone helping Elias open his gifts. 
Singing "Happy Birthday", he loved that everyone was singing to him.
Blowing out the candle, he needed some help, so i stepped in. 
a little bit excited after eating some cake,  can't ya tell.. 
Parker, Elias, Greta, Benjamin, and Carson (always Greta & the boys)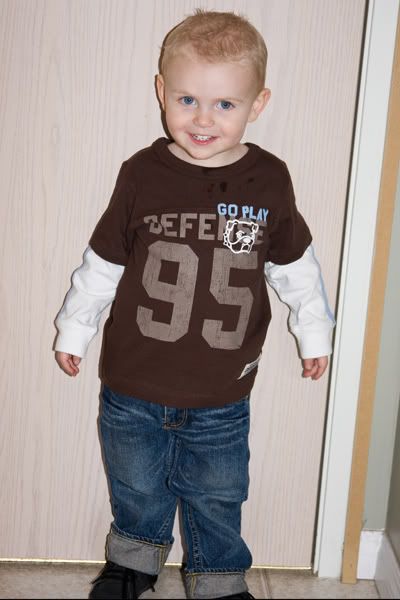 Looks how big i am, 2yrs old!