Holy its been forever since i have put up a post.. but i guess i was visiting in Alberta for almost 3 weeks.
So we are back and man is it nice to be home, but it was nice despite being gone from Jeremy for so long and living out of suitcases with 2 kids.
We first went to Raymond for a visit.. Jeremy's parents had just gotten home off of there mission to Salt lake city. It was nice for Elias to his grandma and grandpa cooper 
(i meant to
get a
 pic of them together)
and for them to meet Nixon for the first time. It was also so fun to hang out with his family and for elias to be with all his cousins.. 
As we were visiting in Raymond i got a scary phone call from the hospital in Saskatoon stating that Nixon needed to be taken to the ER in lethbridge for further testing since his urine test had come back with a weird organism in it.. i was again really scared and poor little Nixon had to go again to the ER, his 3rd time in  his first 2 months. We then had to wait 4 days for the results and it came back that he had a bladder infection, that i guess is really rare for infant boys under 2 years. But he was healthy and doing good and just needed some antibotics again..grrrr. 
Then when everything was worked out with Nixon we were able to travel to my parents cabin in Montana for a week. Elias got to hang out and play with his cousins everyday and had ssoo much fun being at the lake, going on quad rides, boating, throwing rocks and so on. My parents just added on a sweet new deck and a bunk house for all the family to stay over.. this will be the first summer that all the family will be at the lake.. it will be awesome! 
After that i headed back to Raymond as Jeremy was just finishing up finals and was able to come home for his parents homecoming.. it was so nice to see him and his family was happy he could make it. 
So now we are back, and happy to be. Jeremy is all done finals and its so nice to have him home. It's like i forgot how nice it is to have an extra hand around the house and with the kids and he has been so awesome! He is now working at the University doing a mechanical/maintenance  job for the summer, and actually likes it. but its sucks not having him home during the day like last week.
I took Nixon to his doctor appt on Thursday and now he has to get an ultrasound to rule out kidney problems or something like that.. they think possibly there could be something wrong since its very rare to get a bladder infection and since he keeps getting sick...grrrrr!! It just never seems to end with him grrr.., even though he is soo happy and really good now all the time. I am sure its nothing, so i really 
hope
 but i still am always 
secretly freaking out
 inside..
Besides all that, things are good and i am so happy Jeremy is done finals and we can enjoy the summer together. We are going to be back and forth between here and alberta.. and i soo look forward to the fun summer we will surely have. 
Here are some photos from our stay...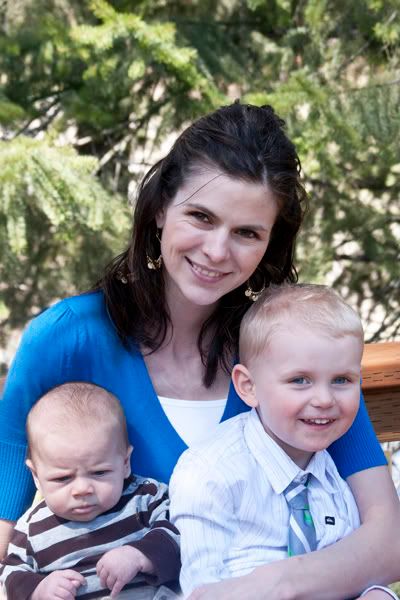 Mother's Day at my parents cabin...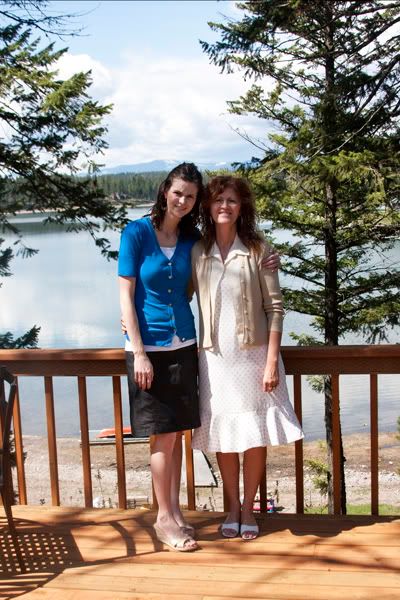 check out the sweet view..
Elias and his cousin Ryan playing neverending soccer, elias had so much fun with him!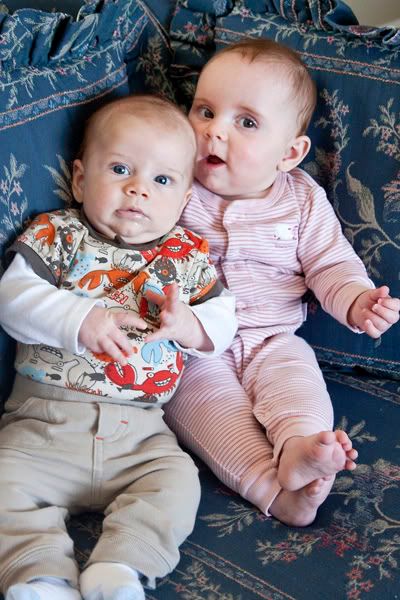 my little sweetie after bathtime..why wasnt i blessed with those eyelashes..