Well its been a bit busy with us these past few weeks..
Between heading back to Alberta twice in the last 2 weeks for job interviews (
who knows if we'll ever get
a job yet..arrgg.)
and getting our place ready to sell its been busy. Plus poor Jeremy is pretty sick this week, probably the sickest i have ever seen him in our almost 7year marriage, so not much help and not the happiest camper either.
I have been busy trying to get this place in order as we are showing our condo this week and putting it on the market. I have been painting, organizing, cleaning, fixing things, you name it.. I swear the next place we have I KNOW i will be more organized.. it's so so much nicer.
I
love
being organized and living in this small, cramped place has been killing me over the years, because there is no room for anything!!!!
My closets are all cleaned and everything is in its place.. we have moved out ALOT of stuff either by taking it back to Alberta or into the garage and i Love having only what we need in the house. These past few days just seeing the rooms cleaner and less stuff makes me happy inside. As much as I am not 100% ready for this next big step in our lives (selling, finding a job, moving ect.) i am ready for more room.
And on the note of this next "big" step in our lives.. i wanted to say if you haven't read the article
"The best is yet to be" by Jeffery R. Holland
in the January ensign you must read it!! I think it is one of the best articles i have ever read. There is so many great quotes but here are a few that are applying to me in my life right now, "
Faith is for the future. Faith builds on the past but never longs to stay there. Faith trusts that God has great things in store for each of us and that Christ truly is the "high priest of good things to come" and remember that faith is always pointed toward the future. Faith always has to do with blessings and truths and events that will yet be efficacious in our lives".
Life in general right now is kinda on pause, it seems there are a lot of changes that are happening or are going to be happening very soon. It seems like there will be a whole new life opening up to us and i am not sure if i am ready yet. I have grown so accustomed to this life, don't get me wrong though i am ready for Jeremy to be done and to somewhat move on with our lives, but at the same time its a little scary.
I've been quite stressed out lately and I kinda wear it out there, life can be very discouraging sometimes and its hard to stay positive. And as much as i really don't understand why things happen the way they do and despite everything thats been going on in our lives i know that i need to believe that the Lord is really looking out for us and he will never lead us astray
if
we are doing what is right. I need to have more Faith that he knows what is best for us and never
doubt
the Lord's ability to give us something better than we already have.
I am
hopeful
that the best is yet to be. yes,
hopeful
Besides all that here are a few photos of what we've been up to lately as well an an awesome cookie recipe to boot.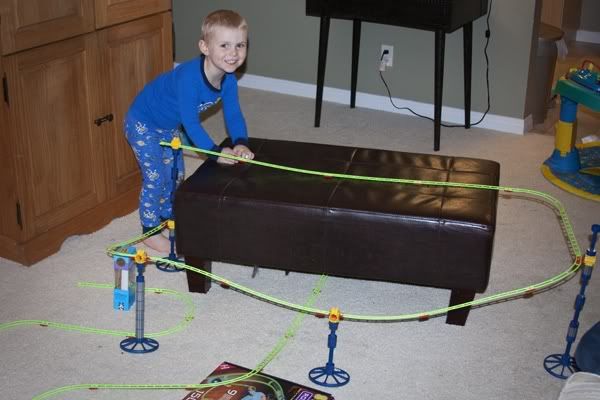 This is Elias' marble track that he got from daddy for his birthday, it is pretty sweet and Elias could play with this all night!
Just a sweet one of my almost 1 year old baby boy.
and another typical day of Nixon in the laundry, and book shelfs and really enjoying it, i can't keep up with this kid!
They are seriously soo yummy, especially for having all whole wheat flour and oatmeal in them. This is my go to recipe now.. I also add ground flaxseed and you can't even tell. Yummo, i want some right now!!!