So i'm 28, yup it was my birthday on St.Patricks Day (
thats why my 1st name is Patricia
).
And i just wanted to say it was wonderful. Seriously one of the best birthdays i've had, Thanks to my dear sweet husband.
Let's just say after arriving home late Tuesday night after co-doing the food for our enrichment night.. i was tired.. really tired and the
last
thing i was expecting was this: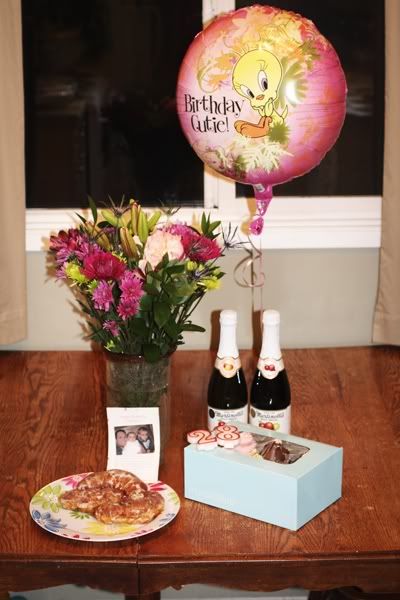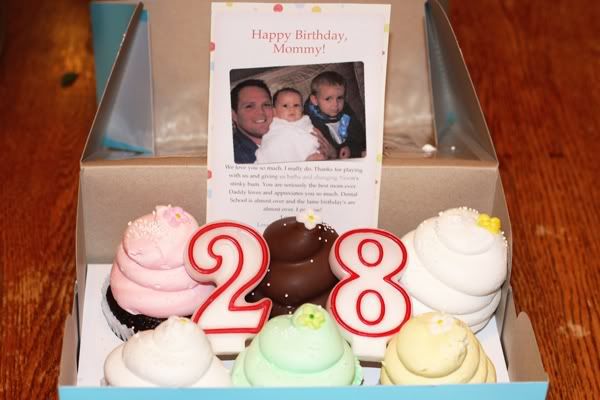 could those cupcakes have anymore icing..haha
Yes Jer had took the kids with him and rounded up some beautiful flowers, sparkling juice (my fave), yummy goodies, and a balloon that Elias eagerly picked out, plus made a sweet little card to boot. All i can say is I LOVED IT! seriously i jumped up and down so excited.. i LOVE surprises and this was the most surprised ever, especially since it wasn't my birthday until the next day. Jer thought it was so funny how happy i was over something like this. But to me it meant everything. i love gifts like this.
Then we drank and ate the goodies while watching our fave show 24, all in all just great.
But thats not all.. i woke up after getting to sleep in until 7:45.. oh how nice is that extra 45 min. That in itself is a great birthday morning. But to top off the day Jeremy had made German Pancakes and everything and i mean everything was
green. Yes green.
because of course it was St. Patricks Day. The pancakes, the apple juice, the syrup and even the butter was all green, not to mention the dishes.. i couldnt figure it out at first wondering why there was green icing on the table.. then i realized it was green butter and i started laughing my head off, it was sooo funny!! He really out did himself this year, isnt that hilarious and so thoughtful.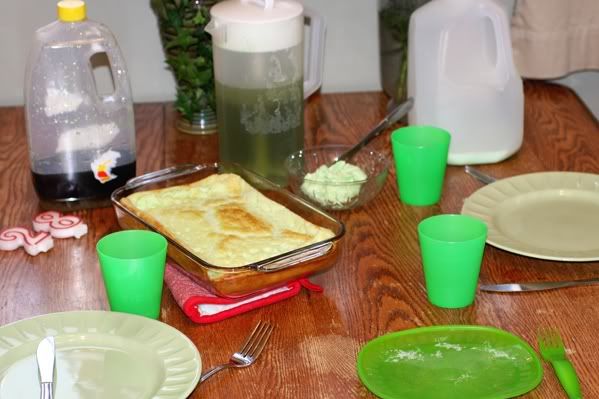 I know he is so
awesome
, really i couldnt have asked for more. thanks babe for making me feel so special on my birthday. It was the best day ever!!
Oh and to top it off we had a girls night out last night for my birthday. It was so fun to get out, we went to
Chili's
had some good appetizers and dessert and a
whole lotta laughs
.
Thanks guys!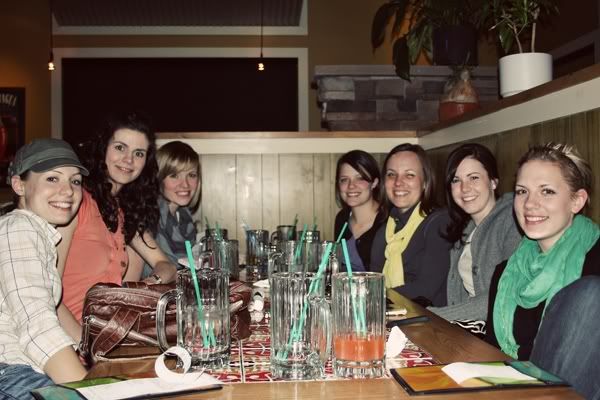 why i'm i the only one caught in the headlights here??