So i love getting flowers.. it doesnt happen that often.. mostly jeremy says he has to always take the bus so its hard to get me flowers.. but mostly i think its the last thing on his mind when he is at school all week and frankly we just cant afford them..and that's okay.
so i was so pleasently surprised when on Friday he came home with these. Aren't they pretty!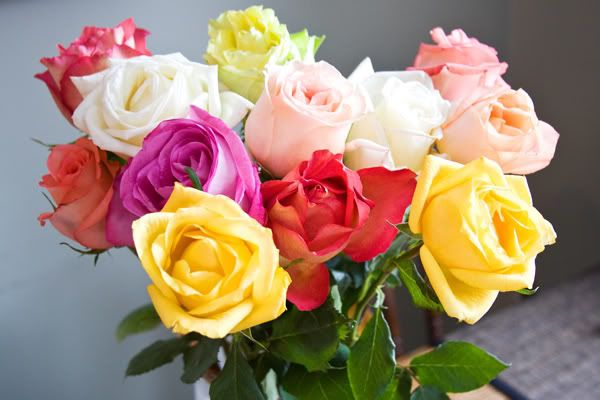 My fave is yellow roses, but they didnt have any so this was a welcomed change. 

He said he got them early for a nice surprise and so i could enjoy them all week up to V-day (and there ALOT cheaper too).. it has been really great enjoying them so far.
So Thanks Babe.. That was so thoughtful, i love them and i LOVE getting flowers.. if i was Oprah or someone with mega money i would always have fresh flowers in my home, there is just something about them that really makes me so happy.. i am constantly smiling and smelling them.
I am also so excited for Friday night too. We are finally going on a date.. it is soooo needed i honestly cant remember the last time just me and Jer did something, he has been soo busy with school and also the baby is coming so quick that we really need this. 
So i am sure it will be a great night, we have a gift card to the Keg that i got last summer from a wedding that we really need to use. So a nice dinner and maybe a movie.. i can hardly wait!