So last week we went to alberta for Kwynne's wedding...
WEll its true.. there is a first time for everything and it sure was.. MY 1st Wedding.. 
Wow.. it was so fun and such a great day at the Cardston Temple.. I was quite nervous.. but

honestly once i pulled out my camera and started shooting.. i was in my element. It was so 
awesome to be a part of Kwynne and Dane's special day.. there is something really neat about 
capturing those moments on a wedding day.  I took SOOOO many pictures.. and I now know 
why photographers charge so much for weddings.. it was a long day at the temple and then the
reception and  Now even more work... Oh well, what can i say.. I LOVE it!!!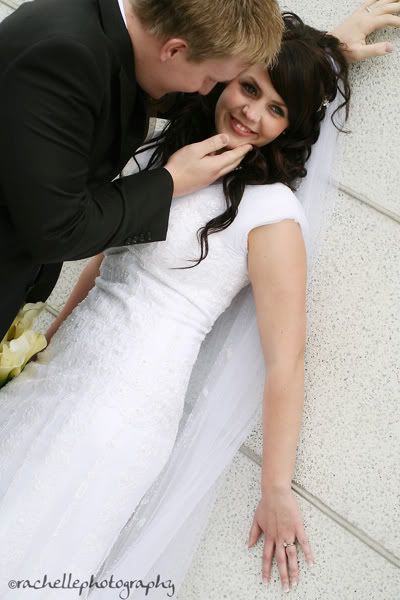 Here is a funny pic jeremy took of me.. i guess you do whatever to get the shot right?? i had a wedding pic like this and really loved it so thought we'd try it out...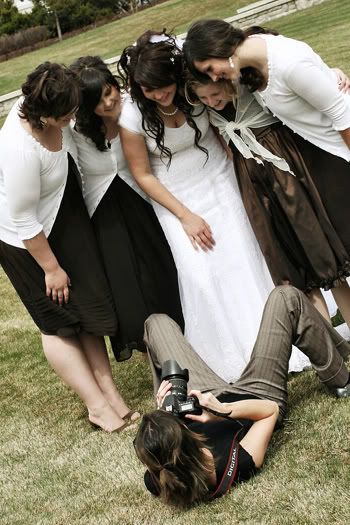 anyways, well now me and Elias are off to Vancouver tomorrow, our flight leaves at 6:20.. so bright and early.. My sister, Renae is graduating from the Police Academy and so i am going out there with my mom and dad and Rowan.. i am pretty excited, Renae hasn't seen Elias since he was 3 weeks old.. so it should be a fun time.. lets hope the flight goes okay with Elias.. lots of snack and baby einstein should hold him over.. well see ya later.. and of course of have lots of pics from your trip.. haha