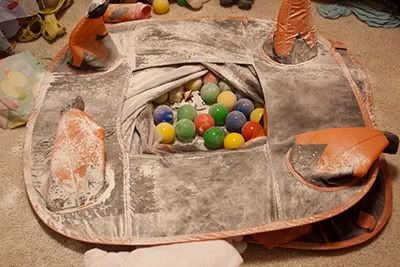 it was really foggy with all the powder in the air!
So i was getting ready in the bathroom this morning when i started to smell BABY POWDER.. immediately i ran into Elias room only to find him emptying the large bottle of Baby powder all over his room... by the time i had smelt it he had managed to empty the whole thing and was jumping around in as it covered everything..the whole room was foggy from all the baby powder and i wasnt the least bit pleased.
The day before he had been playing in his pop-up play castle with all his toys inside.. and so it was entirely covered in ALOT of baby powder..
let's just say i was NOT happy about cleaning all of this up.. it was on everything!!
I was hoping he was out of this stage of getting into things.. but oh no.. it always STILL one thing after the other with him. I guess you could kind of say it was my own fault since i left the cap open.. but i wont say that.