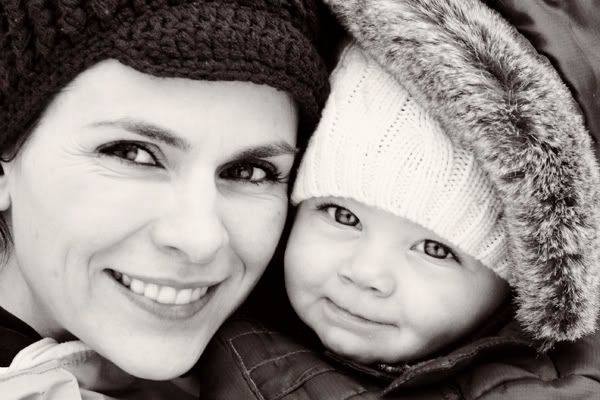 It was really nice to get away for close to 3 weeks, lots of family, lots of fun times and lots of moving to and from.. but all worth it,
mostly.
Christmas is always kind of chaotic for us, so much to do and lots of family that live close together. Mine and Jer's parents live 40 minutes apart and we must have went back and forth at least 4 times not including my parents cabin as well.. depsite all the packing up and hauling, it was really nice to always be somewhere
different
, change of space and Elias was sure NEVER bored, always having different cousins and toys to play with.
Overall it was good times, my whole family was able to make it home for Christmas.. that was especially nice for me.. hanging out with my sister and brother's family that we don't see much. Jer's family was all around too, they all live so close together and it was especially fun on Christmas Eve.. we played games and the kids did the nativity.. Elias loved being a wise men.We also got to go to Montana to the cabin, man it is so beautiful in the winter, all the trees, mountains and snow.. awesome! The kids had some pretty fun times, sledding, quading and skating. Elias tried out his new skates for the first time (wish i had a pic), Jer said he looked pretty cute. I can't wait for him to start skating next week.. i know he will love it!
Here are some pics from the Cabin and Christmas morning.. (
i wish i could figure out how to get the quality better with these mosiac collage)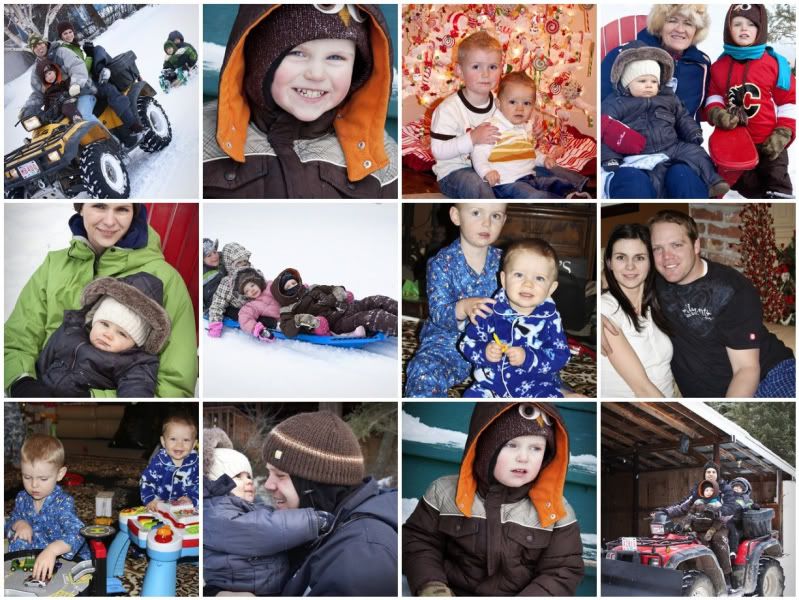 As for Holidays its always especially nice to come Home after being gone so long, and just get back to a routine.. i love having routines, i like being spontaceous but i love having a schedule more. The kids are sleeping so much better now, and me for that matter. And well its nice to be home.
So glad we went.. and yikes only 3.5 more months until Jeremy is done school for good.. isn't that crazy. I mean seriously its making me nervous, really nervous so much to do and still unsure of our plans for the future..
And as for the New year.. I've never been much of a New Years Resolutions person, but decided i am really going to try to accomplish some of these goals,
i know there's lots.
Health: get exercising, at least 2 times per week..i know kinda lame, but its something.
and get taking those vitamins
everyday
Spiritual: Doing prayers and scriptures together
every night
(
trying to improve from last year, so far so good)
Attend the temple MORE..
that should be a bit easier once we move back to Alberta.
Read
most
of the
Ensign every month,
(inspired from my mother-in-law who has read the Ensign cover to cover for 17 years, impressive..i know!!!)
Family: Date night once a month with Jer
(hopefully)
. Special outing with Elias and Daddy once a month. Less TV and more
uninterrupted
and creative playtime with Elias and Nixon.
Personal
: Get photos and videos organized, Be consistent in writing in my online journal, Learn to sew, Read more books, and finally get my Blog photo book done.
I figure if i write them down like this, just
maybe
i might accomplish some of them.
Also for the New Year, i am using this similar
family routine
.. twicked to my own liking of course.. I
love
all the ideas of activities and i just love having everything written down, like the simple things- getting
actually
dressed in the morning, tidying up the kids rooms before bed and so on...
seriously i have ours printed out and I refer to it all the time.. I have deleted some things and added tons and for some reason it has made life so much nicer..
life just seems simpler. and better.